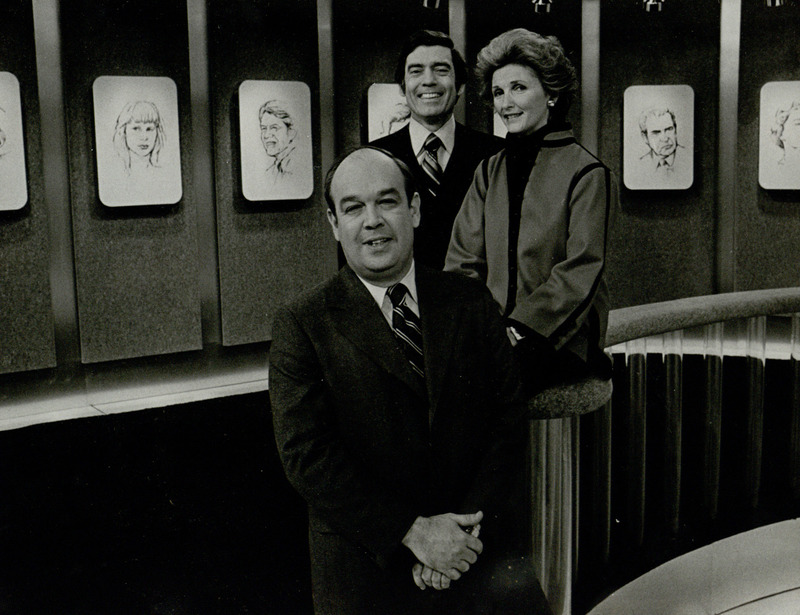 Picture of Charles Kuralt, Barbara Howar and Dan Rather on the set of Who's Who in 1977. Rather (Dan) Papers, Box 77 Folder 9_0017, Howard Gotlieb Archival Research Center, Boston University.
In a Los Angeles Times article, Cecil Smith described how the CBS interview show Who's Who came about when the Tony Orlando and Dawn show was canceled. At the suggestion of John Sharnick, producer Don Hewitt conceived of a show that would be "like the People Section of Time or People Magazine." According to the Washington Post, the show was "hurried on the air early January – without a budget, a plot or a bank of taped interviews." Who's Who premiered on January 4, 1977 with interviews of conductor Leopold Stokowski, actor Richard Burton and train engineer Moan Allen. An ad in the Los Angeles Times presented the new show as bringing "brisk, unretouched close-ups that reveal the human side of public figures." As the core of the show were the three interviewers, each bringing its own style and interests, as an ad in Broadcasting described: "Dan Rather, on-air editor-in-chief, with his reporter's gifts for encouraging self-portrayal....Charles Kuralt, with the folk-warmth of "On the Road" and his talents for searching out "real" people.... Barbara Howar, broadcaster and author, who adds engaging talk and cool insight."
In the following 6 months, Who's Who presented interviews with a wide range of people, from golfer Jack Nicklaus, a 72-year-old patriotic grandmother who objected to the Star Spangled Banner, author and notorious hoaxer Clifford Irving, Jodie Foster, a nightclub owner, Yves Saint Laurent, president Carter chief of staff Hamilton Jordan, a black sheriff in the Deep South, Diane Von Furstenberg and a soviet dissident, to Ralph Nader, Anita Bryant, Rosalynn Carter, and many more. (For a list of the episodes, click here or see below).
Early reviews commented on the new set, "a chic art gallery decorated with pen-and-ink sketches of the newsworthy people who will be the program's stock in trade." As Broadcasting mentioned, the Christian Science Monitor called the show "a welcome companion piece to 60 Minutes. If it can manage to find the line between legitimate 'people' news and tasteless gossip and set unwavering boundaries, it promises to be a show that CBS News can proudly aknowledge." Many reviews commented on the fine line between news and gossip. John J. O'Connor in the New York Times for example wrote that the program was "attempting to concoct a class act, more akin to the glossy magazine than to the cheaply sensational tabloid" and called the first episode "remarkably polished amd promising." A month later, John Leonard in the New York Times called Who's Who "Soft, Slick but Smart." Other reviews were much more critical with Variety talking about the "high-powered aimlessness of the initial show, an inept attempt to exploit the contesting vanities of interviewers and interviewees."
According to a February 1977 memo from the president of CBS News, Richard Salant, producer Hewitt was not able to find enough time to devote to Who's Who, which was now supervised by John Sharnik and Senior Producer Grace Diekhaus. Producer Steve Glauber, on the other hand, remembers that Who's Who was up against shows such as Laverne and Shirley and Happy Days, "and the ratings, the share, I beg your pardon, I think it was a 32 share, which is unheard of today, and was knocked off the air because it only had a 32. Deserved to die, it was a shitty show and Don Hewitt, who was the head of it, when he saw the rates weren't good, he took off." After 20 episodes, the show was canceled in the summer of 1977. In a 1980 Broadcasting interview, Hewitt himself explained that the staff never was able to come up with the same "psychic energy" as a 60 Minutes: "If you want to do a show like Who's Who about people, you have to get a little bit tabloid, a little bit what Barbara Walters does with her special, a little bit more into the People magazine kind of thing. I think CBS News thought that would be damaging to its reputation, So it was neither fish not fowl. If you're going to do Shirley MacLaine, you have to answer the question: What is Shirley MacLaine really like? And [Who's Who] didn't answer the question."
Looking back at the show in July 1977, John J. O'Connor described Who's Who in the New York Times as "the star-struck and gossipy son of "60 Minutes." In a scathing review, the author explained its failure "for a very good reason: The series was almost insulting in its superficiality. A solid reporter like Dan Rather was reduced to a breezy features host and part-time gossip columnist."